News
Pharrell Williams added to line-up for Stevie Wonder's BST Hyde Park gig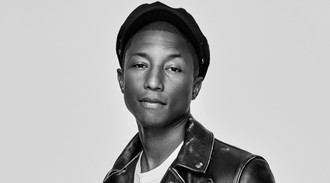 Pharrell Williams has joined the line-up for Stevie Wonder's highly-anticipated gig in Hyde Park this summer.
The Happy singer will feature during a day celebrating soul and R&B, which will conclude with Stevie performing his album Songs In The Key of Life in its entirety, at Barclaycard presents British Summer Time Hyde Park on Sunday, July 10.
The 43-year-old producer, who has worked with the likes of Kelis, Britney, Justin Timberlake and Snoop Dogg, said: "Stevie Wonder was a fixture in my life as a child. His music is probably the closest thing to auditory transcendence."
Fans wanting to catch Stevie and Pharrell should act fast as fewer than 500 tickets for the day remain.
Also just announced as joining the main-stage bill is soul singer Corinne Bailey Rae, who rose to fame on singles such as Put Your Records On and Like a Star and has since released two albums. Girl band KING have also been announced as part of the line-up.
Corinne said: "I have been a fan of Stevie Wonder my whole life and saw the Songs In The Key of Life show at Madison Square Gardens. I cried, I danced and I had massive smile on my face throughout the show. It's a dream come true to be asked to join Stevie Wonder when he brings this amazing show to Hyde Park, and also to be on the stage with Pharrell, who is a huge inspiration to me, and KING, who are my friends and musical collaborators."
Stevie's Songs In The Key of Life tour is coming to the UK for the first time in what will be the album's 40th anniversary year. The 1976 album includes the hits Sir Duke, Isn't She Lovely and I Wish.
Many stars have cited the album as one of their biggest influences.
Elton John said: "Let me put it this way: Wherever I go in the world, I always take a copy of Songs In The Key of Life. For me, it's the best album ever made and I'm always left in awe after I listen to it. When people in decades and centuries to come talk about the history of music, they will talk about Louis Armstrong, Duke Ellington, Ray Charles and Stevie Wonder."
On his musical heroes, Barack Obama once said: "If I had one, it would have to be Stevie Wonder. When I was just at that point where you start getting involved in music, Stevie Wonder had that run with Music of My Mind, Talking Book, Fulfillingness' First Finale and Innervisions, and then Songs In The Key of Life. Those are as brilliant a set of five albums as we've ever seen."
Kanye West has also praised Stevie. He said: "I'm not trying to compete with what's out there now. I'm really trying to compete with Innervisions and Songs In The Key of Life. It sounds musically blasphemous to say something like that, but why not set that as your bar?"
2016 marks the fourth year of Barclaycard presents British Summer Time Hyde Park. Other headliners this year include Florence & The Machine and Kendrick Lamar, Massive Attack and Young Fathers, Carole King performing Tapestry, Take That and Mumford & Sons.
Source: www.msn.com
Added automatically
638 views