News
Axl Rose considering new Guns N' Roses music and memoir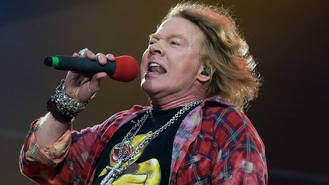 Singer Axl Rose fears an in-demand autobiography will upset his Guns N' Roses bandmates.
The rock group's members have had a tumultuous history, achieving great success in the late 1980s and early 90s before beginning to fracture in 1994, with lead guitarist Slash officially leaving in 1996.
The band carried on sporadically as Axl recruited an ever-changing line-up before Slash and bassist Duff McKagan reunited with the singer earlier this year (16) for the Coachella music festival in California and other select dates in Los Angeles and Mexico City.
And as the trio prepares to embark on a summer stadium tour in North America, following Axl's stint as guest AC/DC frontman, the rocker admits he is keen not to rock the boat so soon after finally burying the hatchet with his bandmates.
"It's tough because I haven't figured out how to word things in a way that doesn't just look like I'm being negative to everybody else and calling them a liar," the singer said in a new interview with Sir David Tang, while discussing the possibility of a memoir.
"Slash and I hadn't talked in 19 years, and when we did talk, I was, like, 'You wrote a lot of stuff that didn't even happen. It's not real'."
Axl, 54, and Slash, 50, clashed following the band's 1993 album, The Spaghetti Incident?, which failed to set the charts alight, and the guitarist spoke about their relationship in his own self-titled autobiography, describing Axl's dictator-style control over the band.
But after a 20-year absence, the band cast any negativity aside and put on a rousing performance over two weekends at the annual Coachella festival, and now fans could be in with a chance of hearing new music from the rockers.
"I've got a lot of stuff together, and I played some stuff for Slash and Duff, and they liked it," Axl continued. "They might be on (the recordings). We don't know."
Axl also hinted he could feature on new AC/DC material too after stepping in to replace ailing Brian Johnson as the rock act's singer: "(Guitarist) Angus (Young) and I talked about working together, so we'll see."
Source: www.msn.com
Added automatically
750 views