News
50 Cent arrested for allegedly swearing onstage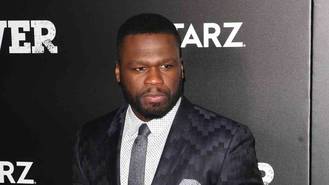 Rapper 50 Cent has been arrested for allegedly swearing during a concert on the Caribbean island of St. Kitts.
The In Da Club star, who performs expletive-filled raps, reportedly said "motherf**ker" during his performance of P.I.M.P. during a set at the St. Kitts Music Festival on Saturday night (25Jun16), after local officials warned him not to use profanity.
Police officers arrived on the scene after his performance and he was arrested, according to TMZ. 50 Cent, real name Curtis Jackson, was taken to the local police station and booked for using profanity in public.
The offence is minor, according to the website, but he will have to remain on the island until Monday (27Jun16) for a court appearance during which he will probably be ordered to pay a fine.
The incident comes a week after the rapper was kicked off stage during a concert in Atlanta, Georgia for ignoring a performance curfew.
50 was playing at Hot 107.9's Birthday Bash when organisers cut off off his sound, forcing the rap star to end his set prematurely.
He reacted angrily to the decision, stating, "You mean my time is up? You mean to tell me you motherf**kers is gonna kick me off the stage for T.I. and Jeezy? F**k this!" He then dropped his microphone in protest.
50 Cent follows in the footsteps of DMX, who was arrested for swearing at a St. Kitts show in 2003. At the time, information minister Jacinth Henry Martin said, "There was a contract signed in which it was made very clear long before the arrival of the artists that there are laws in St. Kitts that do not take kindly to the use of indecent language on stage,"
The rapper, whose real name is Earl Simmons, insisted he hadn't signed any contract because he wouldn't have agreed to perform if he had to censor his songs.
Source: www.msn.com
Added automatically
689 views