News
Ronnie Wood turns heads at twins' birth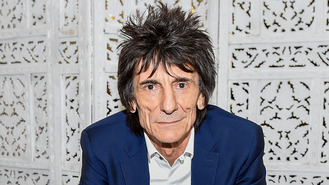 Ronnie Wood turned heads at the hospital where his new daughters were recently born.
The Rolling Stones legend and wife Sally Humphreys welcomed twins Alice and Gracie on 30 May (16), with the girls becoming 69-year-old Ronnie's fifth and sixth children. The tots join Ronnie's older offspring Jesse, Leah, Tyrone and Jamie from past marriages.
Sally shunned the usual celebrity decision of giving birth at a private medical centre, instead choosing to welcome her girls at NHS hospital St Thomas' in London, England. But their choice meant staff at the hospital weren't used to having such A-list patients.
"There would be a few nurses' heads turning round when we had guests and, yes, people were definitely interested in what was going on, but everyone was really wonderful," Ronnie smiled to Britain's Hello! magazine. "I actually got locked out of the hospital two days after the girls were born. It was my birthday and I went out for a meal with Sally's parents, came back to the hospital but it was all closed up after 10.30. I was knocking on the door and luckily I found a nurse who let me in with her card so I could go and spend the night with my girls."
Keith's bandmate Mick Jagger has already been round to see the girls, popping in to check on his friend three days after the birth. Holding one of the babies in each arm, Ronnie got a sweet picture of Mick and his new daughters.
Alice and Gracie will soon be meeting some more of their dad's famous friends - including bandmate Keith Richards and fellow rocker Rod Stewart.
"Keith and Patti (Richards) are in America so they've sent messages and Rod and Penny (Lancaster) were in Venice (Italy) but have sent loads of messages," he said. "We are seeing them all next week.
"We've been sent so many great gifts, loads of teeny baby hats and funny baby clothes. I also had a baby carrier specially designed for the twins made from guitar straps so I can hold the girls both at the same time."
Source: www.msn.com
Added automatically
675 views