News
Kasabian's LP inspired by John Lennon chair theory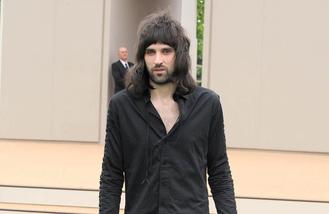 Kasabian's new album is inspired by John Lennon's chair theory.
Guitarist Serge Pizzorno says the late Beatles legend's idea that rock music is a chair and you have to build your version of that chair has influenced his band's sixth studio LP and he can't wait to "make his own version of that chair".
In an interview with Q magazine, the 35-year-old rocker said: "[John] Lennon said The Beatles version of rock 'n' roll was their chair. So I though 'Wow, I want to make my version of that chair."
The 'Fire' hitmakers - also comprised of Tom Meighan, Chris Edwards and Ian Matthews - are currently piecing together material for their follow-up to 2014's '48:13', and lead singer Tom says he was inspired by their surprise set at Leicester City's Premier League victory parade last month.
He previously said: "I'm not supposed to tell ya, but we've got some new songs and things ready for the future. This euphoria is bound to channel into it. We're in such a good place right now."
And Serge also shared how he'd been stockpiling guitar riffs, melodies and lyrics for their next record, but admitted a lot of it was "utter nonsense".
He previously said: "I'm mooching about. I've got a little studio at home so I'm always in there, just escaping from reality ...I hate phones, I can't stand them but the one thing that I use is the voice recorder. The problem is I've just got thousands to sieve through and most of it is complete and utter nonsense. It's me in the middle of the night, recording like a melody, and then going in the next day and it's just like a load of noise - oh, it's terrible!"
Source: www.msn.com
Added automatically
715 views