News
Alanis Morissette shows off her pregnancy in all its glory in naked pool shot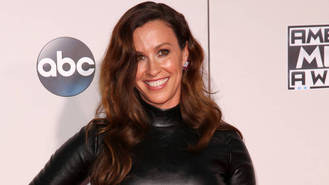 Pregnant Alanis Morissette has wowed fans by posting an underwater nude shot of herself on social media.
The Ironic singer shared the beautiful snap, in which she appears sleeping and peaceful in a pool, on Instagram on Wednesday (29Jun16).
She added the caption: "You have to be extra gentle around ladies because they are the most helpful people in the world 'cause they make persons", and attributes the profound quote to her five-year-old son Ever Imre.
Morissette confirmed she and her husband Mario 'Souleye' Treadway were expecting their second child in February (16). The singer/songwriter announced the happy news on her website via a video and song that ended with her son looking at his unborn sibling's ultrasound photos.
"The story of my nuclear family in moving pictures, brings us up to this sweet moment," she wrote in a caption to accompany the video.
She explained the song was written, recorded and produced in May, 2010 "on the sly, to surprise Souleye". She added, "May this song take on ever-deepening meaning as each year goes by."
The couple wed in 2010.
The baby news comes as Alanis' ex-fiancee Ryan Reynolds is preparing to welcome his second child with actress wife Blake Lively, and it falls during a peaceful time in Alanis' life after settling a legal spat with her former business manager over allegations of stolen funds.
The 41-year-old and bosses at GSO Business Management have reached a settlement in the case, which centred around company partner Jonathan Schwartz, who oversaw the singer's earnings until earlier this year (16). He was accused of embezzling from her accounts.
"I am pleased to have the civil part of this matter resolved," Morissette said in a joint statement issued by the singer and GSO executives on 22 June (16).
Source: www.msn.com
Added automatically
814 views