News
Will.i.am: 'The Black Eyed Peas will perform with Fergie again'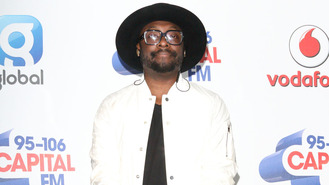 Will.i.am is certain The Black Eyed Peas will perform with Fergie again in the future.
The musicians, who were part of the hip hop group along with apl.de.ap and Taboo, found success back in 2003 with the hit album Elephunk, before the band announcing an indefinite hiatus in 2011 so that members could pursue solo projects.
But will.i.am, real name William James Adams, Jr., is confident the full four-piece will reunite in some form in the future, and insists Fergie, 41, remains an integral part of the group.
"In 1995, we performed with The Black Eyed Peas without Fergie," said will.i.am in an interview with Q magazine. "So in my memory bank, that's The Black Eyed Peas - as well as Fergie in The Black Eyed Peas. Of course we are going to perform with Fergie when that version of the The Black Eyed Peas comes together."
Will.i.am insist it's only a matter of time before the group has the chance to perform together. However, he might have to wait a while as she's pretty busy at the moment with her decade-in-the-making solo comeback, which kicked off with the unveiling of her new single M.I.L.F$ on Friday (01Jul16).
"I can't wait to perform with Fergie again. Is she just too busy at the moment? We all have these separate things we're doing. I don't know what 'too busy' is," he said.
Of course, will.i.am continues to has hectic schedule himself, as in addition to making music, he works as a producer, as a coach on talent contest The Voice UK and oversees technological developments as chief creative officer of 3D systems. But even with his varied interests, the Scream & Shout performer claims that music will never take a back seat in his career.
"I remember in 1995, after (American rapper) Eazy-E passed away, I was like 'Yo, let's try this new group, The Black Eyed Peas, let's play colleges, man. Imagine we get paid $1000?' Back then, we got paid $10 a show! Then fast forward: we accomplish all these things... So my thing is, what does the next 20 years look like? I'll still make music for fun: that's the best way to make music. Not making it like, 'Yo, is this going to chart,'" he explained.
Source: www.msn.com
Added by AutoAdmin
325 views