News
Kelly Rowland feared raising a black son in the United States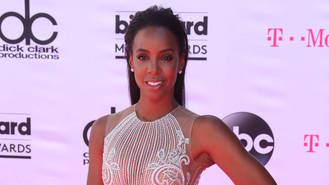 Singer Kelly Rowland wept with fear when she learned she was pregnant with a baby boy.
The former Destiny's Child star welcomed son Titan with husband Tim Weatherspoon in November, 2014, and while she was overjoyed to become a mother for the first time, she felt a great deal of fear over what his future might hold as the U.S. was shaken by a spate of shocking shootings involving young black men.
"I remember being pregnant with Titan and the moment the doctor said, 'It's a boy', and there were all these shootings happening with our young men. I just began to weep," she revealed at the Essence Fest in New Orleans, Louisiana on Sunday (03Jul16).
"I want to raise a great man with respect for himself and others, and to know who he is and to know what his surroundings look like. I just feel like there's great responsibility, not just as parents but as a community in raising him."
In fact, Kelly wishes more high profile black men would come forward and speak up about the subject so younger generations have role models to look up to and feel more encouraged to follow a better path in life.
"I feel like our boys need to see it more," she continued. "If our athletes and our actors and our executives speak up then they can see themselves and they can hear their stories and they can feel like, 'I'm closer to what he's doing' or 'I can do what he's doing.'"
The 35-year-old also had a message for fellow parents who are raising black sons, saying: "Our boys matter and their futures matter and they are our future CEOs and they can do whatever they put their mind to, and we have to let them know that."
Source: www.msn.com
Added by AutoAdmin
356 views