News
Mariah Carey: 'My children deserve a normal lifestyle'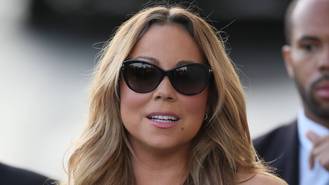 Mariah Carey wants her children to experience a "normal" childhood despite their parents' superstar statuses.
The Hero singer shares five-year-old twins Monroe and Moroccan with estranged husband Nick Cannon. The children enjoy the benefits of their parents' jet-setting, celebrity lifestyles, but Mariah insists if the kids decided they wanted different lives, she would change everything for them in an instant.
"I want them to still feel normal," Carey tells Clash magazine. "So, if they don't like traveling around at some point, they won't have to travel around, but they love traveling. They love flying. If I keep them home for like, five days, they're like, 'When are we going on an airplane?'"
The 47-year-old and Nick are currently in the middle of a divorce, but the former couple has remained close, reuniting to take the twins out for special occasions.
Last year (15), the singer revealed she was heartbroken following the split, but insisted it was important to her to shield her children from her sadness in a bid to maintain their innocence.
"I don't want them to see a mother saying, 'I'm going through this. I'm going through that'," she told Britain's Weekend magazine. "They're babies - innocents. They don't have to see that yet - if ever. So I try to keep everything together because, in some instances, if you cry you're not going to stop crying...
"Christmas was a rough time for me personally but I got through it and you know what? It was for the kids. That was the whole thing. I have a song called Side Effects which goes, 'I kept my tears inside because I knew if I started I'd keep crying for the rest of my life with you. I finally built up the strength to walk away, don't regret it but I still live with the side effects.' That became something I sang over and over to myself because I've been through a lot over the last couple of years. I don't talk about (Nick) because it's inappropriate."
Mariah has since found happiness again and is now engaged to billionaire James Packer, who the singer has praised as a great man and a "fantastic father to his own children".
Source: www.msn.com
Added by AutoAdmin
343 views