News
Lea Michele's new Cory Monteith track is hopeful, not sad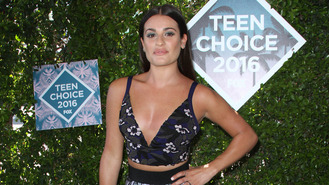 Lea Michele's new album features a "hopeful" song about her late boyfriend Cory Monteith.
The former Glee stars dated both on and off the screen, but their romance was tragically cut short when Cory died of an overdose in July 2013.
Lea has publicly mourned her late partner, sharing her thoughts, feelings and even her tattoo collection dedicated to the actor. She's also written songs about Cory, including an untitled track on her forthcoming album.
"Obviously the last track was a song about Cory. And on this new one, the last song is about him again," she told Women's Health magazine. "But it's very hopeful song because I'm in a different place. I'm stronger."
Lea released her debut album Louder in 2014, which charted all around the world, with track If You Say So about Cory. However, her next effort won't be out until 2017 - even though it's all finished and ready to go.
Since Cory's untimely death, 29-year-old Lea has been in two romances, but is now single after splitting with One Tree Hill actor Robert Buckley in July (16). On the subject of relationships though, Lea knows exactly what she wants from a partner.
"I was reading an interview with Reese Witherspoon and she said how it was vital to find a partner who really takes care of their side of the road. And that is something I find important," she mused. "I take care of myself, and I spend a lot of time and energy doing that, so I need someone else to look after themselves too. It's only then that you can come together and be a really good team."
Source: www.msn.com
Added automatically
587 views