News
Mariah Carey: 'I have the best fans'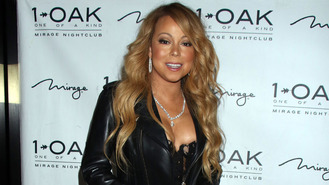 Mariah Carey considers her fans her family.
The legendary singer has spawned countless hits over the years and is currently performing a residency in Las Vegas, Mariah #1 To Infinity. And one thing Mariah has noticed about her Sin City gig, which sees her belt out tracks such as Hero and We Belong Together, is just how far her followers will go to watch her live.
"Fans have been coming from all over the world. Some are like: 'This is my ninth time seeing you.' I have the best fans. We're like a family," she smiled to Britain's OK! Magazine, though she stayed mum on whether she's currently working with anyone in the studio. "This is a secret because everybody steals the concept. I'm serious. I don't want to go into it because I'm going to be shady."
While the possibility of new music remains a mystery, Mariah-lovers will get to see their icon on the small screen soon. The musician revealed earlier this year (16) that she's filming a docu-series for E! called Mariah's World, which captures behind the scenes of her Sweet Sweet Fantasy European Tour as well as wedding planning to fiance James Packer.
She isn't sure how heavily her kids, five-year-old twins Moroccan and Monroe, will feature though as she needs to discuss it more with their father, her ex-husband Nick Cannon.
"I have to figure out with Nick how much we want them in the show – they're an integral part of my life. They could have their own show because that's how funny they are," she smiled. "I can be a bit of a joker. I can be a bit bossy, but I try to be a nice person. All I can say is it's not about getting my nails done all day long."
James will certainly feature in the programme though, with Mariah praising her future husband for being "cool" in allowing certain moments to be filmed.
Source: www.msn.com
Added automatically
636 views