News
Music mogul Lou Pearlman dies age 62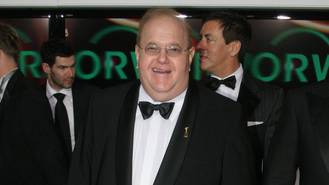 Lou Pearlman, the former manager of boy bands NSYNC and the Backstreet Boys, has died in prison at the age of 62.
The disgraced music mogul was serving a 25-year sentence after being convicted on fraud charges in 2008 for his involvement in a huge Ponzi scheme that swindled 1,700 investors out of $500 million (£382 million).
He died at the Federal Correctional Institute in Texarkana, Texas, on Friday (19Aug16), according to a Federal Bureau of Prisons record. He reportedly suffered a stroke in 2010 and has suffered ill-health since then.
Pearlman was also sued by most of his acts - the Backstreet Boys, NSYNC, O-Town, LFO, Take 5, Natural, and Aaron Carter - for fraud and misrepresentation.
Despite their checkered past, many of his former protegees have paid tribute to the late record producer on Twitter upon hearing the news of his death.
"I hope he found some peace," Justin Timberlake wrote. "God bless and RIP, Lou Pearlman."
His former NSYNC bandmate Lance Bass tweeted, "Word is that #LouPearlman has passed away. He might not have been a stand up businessman, but I wouldn't be doing what I love today wout (without) his influence. RIP Lou," while Chris Kirkpatrick wrote: "Mixed emotions right now, but RIP Lou Pearlman."
"Many emotions at the news of Lou's passing," AJ McLean of the Backstreet Boys wrote on Saturday (20Aug16). "Without Lou I wouldn't have met my four brothers or had the opportunity of a lifetime. RIP," and Howie Dorough added, "Saddens me to hear the news of Lou's death. Condolences go out to his family. Will always be grateful for the opportunity he gave to us."
Nick Carter's younger brother Aaron Carter, who was only 14 when he filed his lawsuit against Pearlman, seemingly blamed his former manager's past discrepancies for his death. "#LouPearlman my old manager died in prison... Rip Lou not the best business guy really at all but he did discover me. Karma is real," he wrote.
O-Town's Ashley Parker Angel also mentioned his former manager's criminal past, and told his fans, "Love him or hate him, Lou gave many of us our start. It's a shame he let greed get in his way. #RIP #LouPearlman."
Meanwhile, bandmate Jacob Underwood took the time to even joke a little about Pearlman allegedly siphoning money from the groups he managed: "Hard to describe what I'm feeling," he wrote. "He was always nice to me, even when he was stealing from me. RIP, " while Erik-Michael Estrada expressed similar sentiments: "Mixed emotions," he simply stated.
Pearlman first struck success in the 1990s after setting up his own record label and launching a multi-million dollar talent search, during which he discovered five unknown singers to form a new boy band called the Backstreet Boys.
AJ McLean, Howie Dorough, Nick Carter, Kevin Richardson, and Brian Littrell, went on to become one of the bestselling boy bands of all time, with 130 million record sales worldwide.
Two years later, in 1995, he repeated the formula to create NSYNC.
The Backstreet Boys filed legal action against Pearlman in 2008, claiming they were owed almost $3.5 million (£2.6 million). The case was finally settled in 2014, after the band accepted a $99,000 (£76,000) payout. They also regained ownership of the master recordings of a number of their songs, including the 1995 hit I'll Never Break Your Heart.
NSYNC and Aaron Carter also launched lawsuits against him.
Source: www.msn.com
Added automatically
649 views