News
Taylor Swift pens Little Big Town song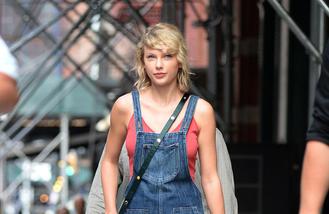 Little Big Town's new single 'Better Man' was written by Taylor Swift.
The group released their latest song late last month and it has now been revealed that Taylor was behind the track.
Member Karen Fairchild said "[Taylor] sent us this song and it was one that was very special to her."
Phillip Sweet added that it "felt right".
And Taylor took to social media to speak of her joy at the band recording her song.
She said: "Feeling really honored that a band I've loved for so many years decided to record this song I wrote."
The lyrics to the song talk about jealousy and a bitter split and many have speculated it could be about Taylor's doomed relationship with ex Calvin Harris.
The lyrics include: "But your jealousy, I can hear it now / You're talking down to me like I'll always be around.
"You push my love away like it's some kind of loaded gun / Boy, you never thought I'd run.
"I know I'm probably better off all alone / Than needing a man who could change his mind at any given minute / And it's always on your terms."
She continues: "I gave you my best and we both know you can't say that/ We might still be in love, if you were a better man."
Speaking about the song and who it might be about, a source told The Sun Online: "Her split from Tom Hiddleston in September was more amicable and happened just before the song came out, so he probably needn't worry about the lyrics.
"Calvin is her only other known boyfriend since she released 1989 in 2014. His ears must be burning pretty hard right now."
Source: www.msn.com
Added automatically
600 views