News
Phil Collins vows to perform drums on 2017 tour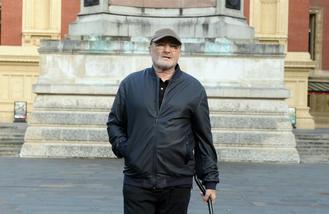 Phil Collins wants to perform 'In The Air Tonight' on drums despite suffering with crippling back pain.
The 65-year-old singer - who first found fame as the drummer and then frontman of Genesis - is hoping to pick up his sticks for the drum part on the classic 1981 hit to perform the song at least once on his 'Not Dead Yet: Live 2017 Tour', even if he has to "tape the sticks" to his hands. According to the Daily Mirror newspaper, he told a US radio station: "I am sure I will be able to pull that together, yeah. I'm going to do something and hopefully be playing that.
"And I am going to apply myself to do something and hopefully be playing that particular thing ('In The Air Tonight') with my son Nick, who is playing drums on the tour.
"It is the subtlety in my hands that is important and I know that drum fill isn't particularly subtle but there is a subtlety to what I do and when I play which involves my fingers and I have had this neuro problem for a while so even if I have to tape the sticks to my hand I will do something."
The 'Against All Odds' hitmaker retired from playing music due to his bad back and hearing issues, which affected from playing drums, but his doctor recently told him he can play percussion again.
He previously said: "After this surgery, though, the doctor said to me that my vital signs were all there. He said to me, 'If you want to play drums again, all you have to do is practice.' "
Phil's motivation for ending his self-imposed exodus was that his youngest children, Matthew Collins, 11, and Nicholas Collins, 15, have never seen him perform on stage.
Speaking last year, he said: "I'm no longer officially retired. The horse is out of the stable and I'm raring to go.
"My kids are now 10 and 14 and they want to see what their dad does. They were in nappies when I was last on the road. They love my music and I'd like to take them out so they can enjoy it."
Phil Collins' Not Dead Yet: Live 2017 Tour dates:
June 2017
4th - London - Royal Albert Hall
5th - London - Royal Albert Hall
7th - London - Royal Albert Hall
8th - London - Royal Albert Hall
9th - London - Royal Albert Hall
11th - Cologne LANXESS Arena
12th - Cologne LANXESS Arena
18th - Paris Accor Hotels Arena
19th - Paris Accor Hotels Arena
Source: www.msn.com
Added automatically
639 views