News
Lady Gaga to join Hillary Clinton for midnight election eve rally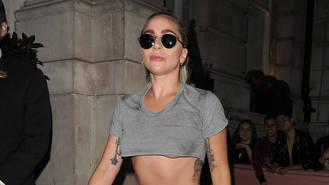 Lady Gaga will join Jon Bon Jovi for a U.S. election eve gig in support of Hillary Clinton late on Monday night (07Nov16).
The public Clinton supporter will be among the big names cheering on the Democrat at a midnight rally in Raleigh, North Carolina, according to ABC News.
The get-together will be the presidential hopeful's last rally before Tuesday's (08Nov16) election.
It is not clear if Gaga will be performing or speaking at the event, which will be Bon Jovi's second Clinton rally of the evening - he's also on the bill to appear at a campaign gig in Philadelphia, Pennsylvania along with Bruce Springsteen, Clinton's husband Bill, their daughter Chelsea, U.S. leader Barack Obama and his wife Michelle.
Ahead of the midnight rally, Lady Gaga took to Twitter to express her frustration with Republican nominee Donald Trump - Clinton's rival - and his wife Melania Trump after she took a stand against cyber-bullying and said it would become her priority to stamp out the issue if she becomes America's next First Lady.
"@MELANIATRUMP to say u will stand for 'anti-bullying' is hypocrisy," Gaga wrote. "Your husband is 1 of the most notorious bullies we have ever witnessed."
Meanwhile, stars like Robert Downey, Jr., Scarlett Johansson, James Franco, Julianne Moore, and Neil Patrick Harris have teamed up to urge Americans to make sure they vote on Tuesday in a new online video.
The clip, titled VOTE TOMORROW and directed by Joss Whedon, begins with Downey Jr., saying, "Tomorrow's the big day. Who's gonna get out there and vote?"
Johansson then urges voters to make a plan to cast their ballots, adding, "When are you going? Are you going before work? Are you going after? Do you have a plan? Do you have a ride?"
She then jokes, "'Cause I can drive. Not well, but I can drive."
Source: www.msn.com
Added automatically
639 views