News
Lorde loves no longer being recognised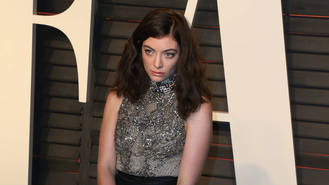 Lorde loves that she's no longer the centre of attention, especially when it comes to the paparazzi.
The Tennis Court singer turned 20 on Monday (07Nov16) and shared her thoughts about getting older with a long, emotional post on Facebook titled 'A NOTE FROM THE DESK OF A NEWBORN ADULT'.
Recalling how she was just 16 when she rose to fame with song Royals, Lorde commented on how much her life has changed over the last 12 months.
"Sometime in the last year or so, part of me crossed over. For one thing, I made a very deliberate choice to withdraw for a little while from a public life," she explained. "I haven't had my hair or makeup done in a year, the free handbags dried up LONG ago, and the paparazzi at the airport are almost always for someone else. And let me tell you, as much as I love being full noise album cycle girl, it's been a motherf**king joy."
Describing this period of her life as "one for the ages", Lorde continued to reveal she's captured all her experiences in her upcoming album, a follow-on from 2013 debut Pure Heroine, and that she's currently in New York putting the finishing touches to it. She left the release date a secret though, simply promising it will be out "soon".
"I want nothing more than to spill my guts RIGHT NOW about the whole thing - I want you to see the album cover, pore over the lyrics (the best I've written in my life), touch the merch, experience the live show," she gushed. "I can hardly stop myself from typing out the name. I just need to keep working a while longer to make it as good as it can be. You'll have to hold on."
Lorde ended the post with by sharing her surprise at turning 20 and wishing her younger brother Angelo a happy 15th birthday
"What i'm trying to say is: this is a special birthday. The party is about to start. I am about to show you the new world," she concluded.
Source: www.msn.com
Added automatically
576 views