News
Green Day hate fans using phones at gigs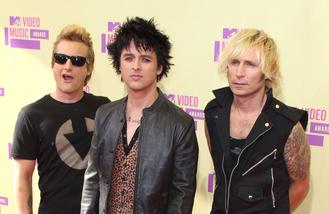 Green Day hate fans who use their phones during shows.
Frontman Billie Joe Armstrong's pet hate is seeing an auditorium full of lit up mobile phones and has admitted he wishes fans would stop filming and taking pictures during their concerts and instead have a more "human" connection with the 'American Idiot' rock band.
He explained: "Social media can be a very miserable place to be.
At our shows I see a lot of people holding up cell phones.
"You can look at a screen at home; you can look at your computer or your phone anywhere.
"You can take your picture but let's have eye contact, let's have a human experience right now you can't capture on a cell phone.
"Why would you want to listen to your favourite song going like this [holds arm in air] when you can just hear it right in front of you? I feel like a little more human contact is good."
The 44-year-old rocker - who is joined by Tré Cool and Mike Dirnt in the pop punk trio - also admitted he still hasn't grasped the world of celebrity and may never will.
He told the Daily Star newspaper: "I'm trying to make sense of the things that will never make sense.
"Things about society that make no sense, the things about watching someone that is the biggest celebrity in the world who has absolutely nothing to offer the world."
Green Day returned with their 12th studio LP 'Radio Revolution' last month and were honoured with the Global Icon Award at the 2016 MTV European Music Awards.
Source: www.msn.com
Added automatically
590 views