News
Madonna champions freedom for women in blistering awards speech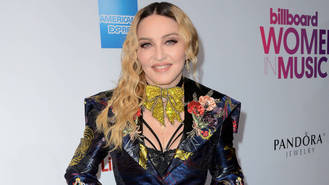 Madonna blasted the music industry for oppressing women and restricting their freedom during a blistering speech.
The 58-year-old pop icon made the comments while accepting the Woman of the Year award at Billboard's annual Women in Music event on Friday (09Dec16).
"I always feel better with something hard between my legs," she cheekily began her speech while straddling the microphone stand on stage at the New York event.
"I stand before you as a doormat," Madonna continued. "Oh, I mean, as a female entertainer. Thank you for acknowledging my ability to continue my career for 34 years in the face of blatant sexism and misogyny and constant abuse."
The mother-of-four candidly spoke about being raped at knifepoint after first moving to New York as a teenager, defying her most vicious critics and being called "a wh***e and a witch."
"One headline compared me to Satan," she recalled on stage. "I thought, 'Wait a minute, isn't Prince running around with fishnets and high heels and lipstick with his butt hanging out?' Yes, he was. This was when I understood women do not have the same freedom as men."
Towards the end of her speech, the Material Girl hitmaker thanked her critics and offered advice to young women trying to forge a career in the music industry.
"I'm not here so much because I care about awards," Madonna confessed. "I'm here because I want to say thank you. To all the doubters and naysayers and everyone who gave me hell and said I could not or would not or must not, your resistance made me stronger, made me push harder, made me the fighter that I am. It made me the woman that I am today. So thank you."
Calling out the oppression she and other women have felt victim of while trying to further their careers, she added: "What I would like to say to all women here today is this: Women have been oppressed for so long they believe what men have to say about them.
"They believe they have to back a man to get the job done... As women, we have to start appreciating our own and each other's worth. Seek out strong women to befriend to align yourself with and to learn from, to collaborate with, to be inspired by and enlightened by. True solidarity amongst women is a power on its own," she concluded.
Taking to Twitter after the awards, Madonna wrote, "Thank you BillBoard for honouring me!! it was good to speak my mind!"
Source: www.msn.com
Added automatically
682 views