News
Bob Dylan 'honoured' to accept Nobel Prize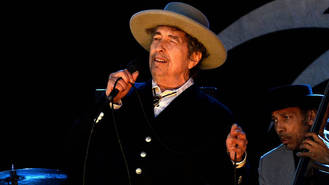 Bob Dylan graciously accepted his Nobel Prize for literature, despite not attending the prestigious ceremony.
The musician confessed to being stunned and surprised when he was told he had won, because he had never considered his iconic music to be literature.
Dylan's speech was read out at the annual awards dinner in Stockholm on Saturday (10Dec16) by the US ambassador to Sweden, Azita Raji, with the singer labelling the prize "something I never could have imagined or seen coming".
"I'm sorry I can't be with you in person, but please know that I am most definitely with you in spirit and honoured to be receiving such a prestigious prize," wrote Dylan in his opening statement.
He said he thought of writer William Shakespeare when he learned he was being awarded the prestigious honour, adding, "His creative vision and ambitions were no doubt at the forefront of his mind, but there were also more mundane matters to consider and deal with... I would bet that the farthest thing from Shakespeare's mind was the question: 'Is this literature?'
"Like Shakespeare, I too am often occupied with the pursuit of my creative endeavours and dealing with all aspects of life's mundane matters. 'Who are the best musicians for these songs? Am I recording in the right studio? Is this song in the right key?' Some things never change, even in 400 years. Not once have I ever had the time to ask myself 'are my songs literature?' So, I do thank the Swedish academy, both for taking the time to consider that very question and ultimately, for providing such a wonderful answer."
In his absence, fellow musician Patti Smith honoured Dylan with an emotional rendition of his legendary song, A Hard Rain's a-Gonna Fall. However, she stumbled through her performance and apologised profusely to the crowd.
The singer-songwriter forgot the lyrics in the second verse and had to pause to regain her composure. Forgetting the lyric, "I saw a black branch with blood that kept drippin'," Smith apologised and asked if she could start that section of the song again. "I am so nervous," she explained, as she was encouraged by applause from the dignitaries and members of the Swedish royal family at the ceremony in Stockholm's Concert Hall.
She appeared to draw a blank again in the third verse, but only briefly, and finished the song triumphantly, according to Britain's Guardian newspaper.
Source: www.msn.com
Added automatically
653 views