News
Britney Spears' 'family worried about video beau'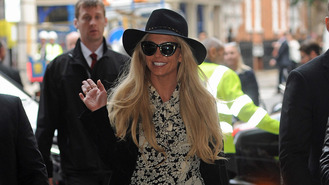 Britney Spears' family are allegedly concerned over her budding romance with the star of her video Slumber Party.
Britney and Sam Asghari met on set, and have since enjoyed a date at a sushi restaurant in Los Angeles. Super fit Sam, who played Britney's love interest in the video, posted a picture of the pair looking cosy but then deleted it. However, friends of the Britney are worried that he is just using the star for her fame.
The 22-year-old works as a personal trainer and has since been wooing the 35-year-old Toxic singer who has been single since her split from Charlie Ebersol in June 2015.
"They've been meeting up near her house in Thousand Oaks (outside LA)," a source told Heat magazine. "He's really a personal trainer who's been going on casting calls to get in music videos, and although he's hit it off with Britney and he likes her, he figures he can use the interest on him to get more jobs.
"Britney fell for him during the Slumber Party shoot, in part because she's desperate to date. Sam's sending her flowers and telling her he misses her and how beautiful she is."
The romance hasn't gone down well with Britney's dad Jamie though.
"Jamie's concerned about Sam's motives for dating Britney," says the friend. "When Sam posted that photo, Britney's management asked him to take it down - it was against her dad's rules. Britney's frustrated with her dad's interference: she's saying she and Sam are like Romeo and Juliet."
However, Britney is ignoring her father, and has already introduced the handsome model to her two sons, Sean Preston, 11, and Jayden James, 10.
A friend of the model/trainer isn't sure he's quite dad material just yet.
"I'm not sure about that," Aaron Paul Perez answered when asked if Sam would make the perfect father figure. "Sam seems young at heart, so I'd say either he would be a really hip dad or not ready (at all).
Source: www.msn.com
Added automatically
620 views