News
Clean Bandit were 'obsessed' with music videos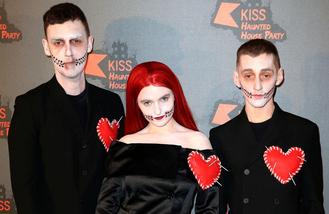 Clean Bandit were "obsessed" with making music videos before they topped the charts.
The 'Rockabye' hitmakers have always strived to make spectacular videos and cellist Grace Chatto admits they put off recording 10 songs - before their debut LP 'New Eyes' was released in 2014 - because they were more interested in creating visuals.
In an interview with The Telegraph, the 31-year-old musician, who met her band mate Jack Patterson at University, said: "We knew we wanted our videos on MTV so we were striving towards that for a good two years after graduating and a few years before that."
The pair - who previously dated - would hide out in Jack's self-made studio and work on videos together for hours on end rather than putting anything on tape.
She added: "Jack built a bed out of scaffolding and there was studio equipment underneath.
"We'd be in there all day making music and then we'd fall asleep and then we'd wake up and do the same thing. That went on for three years.
"We had 10 finished songs that were going down well live, but we never record them because we were so obsessed with making videos."
Meanwhile, Jack, 27 - who is also joined by his brother Luke in the group - says having a middle-class upbringing, and attending university at Cambridge, didn't affect their popularity as a band.
He explained: "I don't know if there have been opportunities that we've missed because people thought we were posh. I doubt it. If someone's got a problem with you being posh they're not going to be able to hold you back with anything."
Source: www.msn.com
Added automatically
646 views