News
Eddie Vedder plays Santa for struggling Maryland mum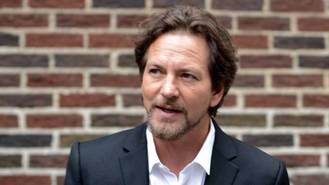 Pearl Jam singer Eddie Vedder surprised a Maryland family facing a Christmas without a home by handing them $10,000 (GBP8,100).
Tyshika Britten asked for help on Craigslist.com on 19 December (16) after learning that she and her six kids were facing eviction and a Christmas without gifts, and her plea was picked up by the Washington Post.
Britten wrote: "I am a mother of six, 5 boys and 1 baby girl… I'm so hurt. I'm trying my best. I pray everyday and now I'm begging for help. I know it's not about the gifts, but they are kids! I'm such a failure right now... please help me."
Vedder saw the Post article about the desperate mum's Craigslist plea and was "so moved" by her story he decided to reach out and help.
"I thought those kids must be so proud of their mother for reaching out," the rocker told the Post. "That takes a lot of courage."
He also revealed her story reminded him of his own youth, adding, "There were years there were toys from Santa, but they were used and they came from garage sales and they didn't always work."
Britten didn't even know who Vedder was when she received his cheque just before Christmas, asking, "Is he in a band?"
The rock star's generosity prompted the struggling mum and her kids to spend Christmas checking out Pearl Jam concerts on YouTube. A GoFundMe page for Britten's family has also raised over $18,000 (GBP14,600).
Christmas came early for Vedder and his bandmates last week (20Dec16) when they learned they had landed on the list of Rock & Roll Hall of Fame 2017 inductees.
Pearl Jam will join Journey, late rapper Tupac Shakur, Joan Baez, Electric Light Orchestra, and Yes among the class of 2017.
Source: www.msn.com
Added automatically
638 views