News
Kacey Musgraves: 'Vietnamese pho and coconut water are the cure for a hangover'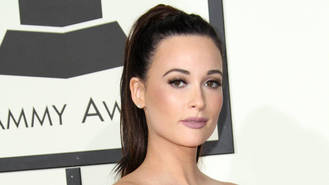 Country singer Kacey Musgraves turns to Vietnamese food and coconut water when she needs a quick hangover cure.
The pretty star partied hard over the holidays after scoring a big hit with her festive album A Very Kacey Christmas and becoming engaged on Christmas Day (25Dec16), but she didn't suffer too many rough mornings after heavy nights thanks to her tried and tested recovery techniques.
"Coconut water is a major help with hangovers, and also, a lot of times we go and eat Vietnamese pho," she told country music news site TasteofCountry. "That, sleep, Tylenol, coconut water and just water, in general (works well).
"And when you're drinking, have your alcohol, drink a little bit of water, drink some more alcohol, drink some water..."
Kacey's longtime boyfriend Ruston Kelly popped the question on Christmas morning, while the couple was enjoying the holidays at her childhood home in Texas.
Sharing a photo of her ring on Instagram, the 28-year-old explained, "We had just been at my parents' house randomly having a night of watching bittersweet old home tapes of all these beautiful family memories that were made in this little, old country house I grew up in that I now have.
"We came back to that house afterwards and he had somehow pulled off having my sister and brother-in-law completely decorate my childhood bedroom in the most nostalgic and perfect Christmas decorations. I was bewildered and confused when I saw it all and turned around... and he was on his knee with a baby pink velvet ring box and the sparkliest ring I've ever seen!"
"It was so special," she added. "Of all the places in the world I've gotten to see, nowhere could mean more than this happening in tiny Golden, Texas in the house that completely made me who I am."
Source: www.msn.com
Added by AutoAdmin
311 views