News
Bruce Springsteen has a 'good arsenal of material' for next album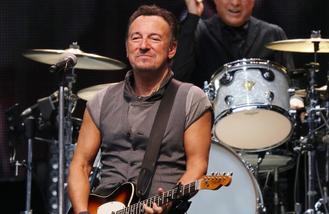 Bruce Springsteen has a "good arsenal of material" to write songs about now that Donald Trump is to be the next American president.
The 67-year-old musician has been known to include political sentiments in his songwriting, and has said whilst he admits there's a lot to write about surrounding the vote to elect controversial candidate Donald Trump - who will officially take office later this month - he hasn't "written about it" yet as he's still "digesting" the information.
He said: "I haven't written about it. It takes a while to digest all those thing. I don't know if I will, 'cause, I don't go, "Okay, I need a Trump album. That's what's got to come next.'
"I can make a record based on what I can write about at a given moment.
"Sometimes it ends up being topical. Sometimes it doesn't. But we've got a good arsenal of material right now, that we can go out and sort of put in service."
And the 'Born In The U.S.A' hitmaker says the emotions he feels most in the wake of the election are "disgust" and "fear", as he doesn't believe the President elect has the "pure competence" for the job.
He added: "I've felt disgust before, but never the kind of fear that you feel now.
"It's as simple as the fear of is someone simply competent enough to do this particular job? Forget about where they are ideologically.
"Do they simply have the pure competence to be put in the position of such responsibility?"
Despite his concerns, the 'Born To Run' musician still has faith in his home country.
He told Marc Maron on his 'WTF' podcast: "America is still America.
"I still believe in its ideals, and I'm going to do my best to play my very, very small part in maintaining those things."
Source: www.msn.com
Added by AutoAdmin
326 views