News
Ozzy Osbourne lost his way before Black Sabbath firing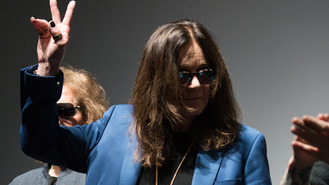 Ozzy Osbourne's 1979 firing from Black Sabbath came during a 'bad time'.
The British rocker, 68, became a household name thanks to the heavy metal group, which rose to prominence in the early '70s. However after spiralling into drug abuse and with mounting tensions between the band, Ozzy was asked to leave the group he helped form.
"I'd lost my way," Ozzy told Mojo magazine. "When they fired me, I wasn't doing anything, We'd been ripped off by managers, ripped off by lawyers, and I just thought. We're only doing this to pay the f**king bills and buy drugs. It was just a bad time."
It was drummer Bill Ward, with the support of bandmates Tony Iommi and Geezer Butler who delivered the news to Ozzy.
The firing came not long after Ozzy had rejoined the band after leaving of his own accord to pursue solo ventures.
"I said to Bill Ward one day, quite a while ago now: 'You know what, we got ripped off Bill, but our lives were forever changed for the better.' We came from a f**king hole – Aston (in Birmingham, England)," Ozzy said.
"I could never hold a job down, being in a band was a way of getting out of England, driving around Europe and having fun with the lads, getting a few beers and a few joints. Not much fun in Lozells Road (Birmingham). One thing I will say: the first 10 years of Black Sabbath, the original four, was pretty incredible."
Ozzy, Tony and Geezer continue to perform as a three piece, and are currently on the last leg of the Black Sabbath The End Tour.
Source: www.msn.com
Added automatically
614 views