News
Mariah Carey taking social media break after New Year's Eve disaster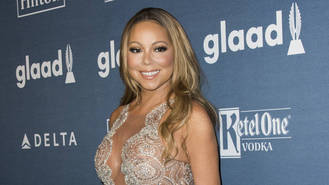 The fall-out from Mariah Carey's New Year's Eve (31Dec16) concert disaster has prompted the superstar to take a social media break.
A week after sound problems forced the pop diva to give up on her live televised performance in New York's Times Square, Carey has released an audio snippet on Twitter, explaining her side of the story for the first time - before announcing plans for a social media blackout.
"I haven't really addressed the situation that happened on New Year's Eve, and in time I will," she said. "But for now, I want everyone to know that I came to New Year's Eve in New York in great spirits and was looking forward to a celebratory moment with the world.
"It's a shame that we were put into the hands of a production team with technical issues who chose to capitalise on circumstances beyond our control."
She also addressed criticism surrounding her decision to use a backing track for her performance on the Dick Clark's New Year's Rockin' Eve show, broadcast across America last Saturday.
"It's not practical for a singer to sing live and be able to hear themselves properly in the middle of Times Square with all the noise, the freezing cold, the smoke from the smoke machines, and thousands of people celebrating, especially when their ear monitors are not working properly," she added. "They (producers) foiled me, thus it turned into an opportunity to humiliate me and all those who were excited to ring in the New Year with me. Eventually, I will explain this in greater detail than I can give here."
She then told fans she would be taking a social media hiatus, stating, "Although I'm going to fulfil my professional obligations, this is an important time for me to finally take a moment for myself and to be with my loved ones and prepare for my upcoming tour in March."
Dick Clark's New Year's Rockin' Eve host Ryan Seacrest broke his silence about Carey's performance on his radio show last week (05Jan17), calling it "unfortunate", while defending his producers from claims they sabotaged the singer's set for ratings.
Carey's manager, Stella Bulochnikov, previously blasted TV bosses, insisting they could have cut to a commercial when it was clear the headliner was struggling onstage.
Instead, viewers watched as Mariah awkwardly dance onstage as a backing track played behind her. Mariah and her manager have since explained her in-ear monitors were not working and when the singer removed them, she couldn't hear her music over the din of the crowd.
Source: www.msn.com
Added by AutoAdmin
297 views