News
Ed Sheeran: 'Love Yourself would never have been released if Bieber didn't pick it up'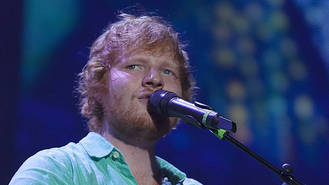 Justin Bieber's Love Yourself hit was originally intended for Ed Sheeran's album Divide.
The British singer/songwriter made the big reveal during a radio interview with Carson Daly on 97.1 AMP in Los Angeles on Monday (09Jan17), revealing he wanted to initially keep the track for himself when he started work on it.
"That was a song I had written for Divide," Sheeran explained, admitting he probably would have dumped it before recording it for the album.
"Justin took it and did his thing on it, and released it as a single and made it what it is," he added. "So, going from a song that would have never been released to (being) the biggest song of last year... it just shows you that you shouldn't always write stuff off."
The track was recently named Billboard's number one track of 2016 and it was nominated for Song of the Year at the Grammys.
And humble Ed refuses to take all the credit for the song, adding, "He (Justin) did have input on it. I wouldn't say it was just all me."
Sheeran also played a role in Bieber's 2016 hit with Major Lazer, Cold Water.
"That was a weird one because I didn't even know that song existed," he explained. "It was a song I must've half-written somewhere at a time where I was writing a lot of songs... and then I got an email from (producer) Diplo just being like, 'Yo! That Cold Water song is dope! Can I have it?'
"I was like, 'I have no idea what you're talking about', so I just didn't reply. And then he emailed and was like, 'Yo, Justin wants to hop on the Cold Water song. Is that cool?' And I'm just like, 'What are you talking about...?'
"Then the song came out and it was number one and I was like, 'Oh, that song!' I remember doing it, but it was really, really slow. I remember hearing it and being like, 'That kind of sounds like me. Oh wait, it was me!'"
Source: www.msn.com
Added by AutoAdmin
323 views