News
Fadi Fawaz rejects claims George Michael tried to breakup with him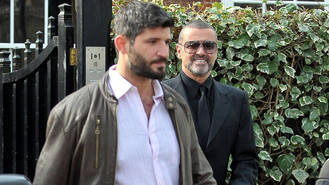 Fadi Fawaz has blasted a report alleging George Michael tried to end their relationship, calling it 'lies'.
The hairstylist dated late singer George for more than seven years, and was the one who discovered the iconic star's body on Christmas Day (25Dec16).
Stories have since emerged that George, who passed away at 53, wanted to break-up with Fadi, with British newspaper The Sun claiming the star had tried to walk away numerous times over the last 18 months.
"On more than one occasion George told Fadi he no longer wanted to see him, but each time they would find themselves back in touch," a relative told the publication.
"George was so kind and generous, but he said to me many times that his biggest weakness was he could never say no to anything — sex, drugs — he had that sort of personality. In many ways he was quite a vulnerable person, because he always said yes. He never stood his ground."
Fadi has now taken to Twitter to discount the report.
"Lies. Time you believed in love," he fumed next to a link to The Sun's story.
"You left me to a world where i am only meant to Cry," he later wrote alongside a photo of a man with a blurred out face.
Fadi broke his Twitter silence on Sunday (08Jan16), after taking a week hiatus from the micro blogging site following claims it had been hacked. He wrote: "In order to recognise LOVE you need to have it in your home, heart and life..SAD SOUL ." The post came seven days after a message appeared on Fadi's Twitter account alleging George had finally killed himself after numerous suicide attempts.
Fadi denied he sent the tweets and deleted his account.
The post-mortem into George's death proved inconclusive. Further tests have been carried out, but police say the results will take weeks to get back.
Source: www.msn.com
Added by AutoAdmin
308 views