News
The KLF: Dance music hitmakers make songs available to stream after 29-year hiatus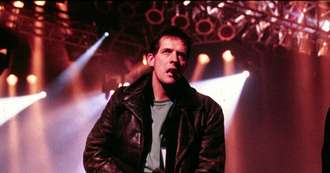 Dance music duo The KLF have made a selection of their most popular songs available to stream, which had been unavailable for nearly three decades.
Tracks including dance anthems "3AM Eternal" and "What Time is Love" are being made available on a new eight-song compilation entitled Solid State Logik.
In 1992, the band deleted their entire back catalogue, and their music had been officially unavailable ever since, including on streaming sites services such as Spotify or Apple Music.
In the years since The KLF's withdrawal from music, they have focused on other artistic pursuits, including art and writing projects, while fans have shared bootleg clips of their music and performances on YouTube.  
According to a statement on the official KLF YouTube page, four other releases are in the pipeline.  
"KLF have appropriated the work done between 1 January 1987 and 31 December 1991 by The Justified Ancients of Mu Mu, The Timelords [and] The KLF," reads the statement.
"This appropriation was in order to tell a story in five chapters using the medium of streaming. The name of the story is Samplecity Thru Transcentral."
The announced projects include a second volume of Solid State Logik, and releases entitled Kick Out The Jams and the Pure Trance Series.
The band, comprised of Jimmy Cauty and Bill Drummond, announced their departure from the music industry 29 years ago, during an appearance at the 1992 Brit Awards.
Performing "3AM Eternal" after having tied for best group with Simply Red, The KLF shot machine-gun blanks at the audience.
The song was followed by an announcer declaring: "The KLF have left the music business."
Source: msn.com
Added automatically
380 views