News
Jennifer Lopez delivers emotional message during New Year's Eve performance: 'We've lost too many' in 2020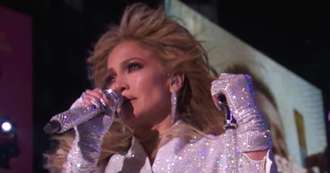 Jennifer Lopez delivered an emotional message on ABC's New Year's Rockin' Eve.
The singer opened her performance with a rendition of her recent song "In the Morning", which she released on 27 November 2020.
After the tune ended, she took a few moments to address viewers and the few audience members present in person near her stage in Times Square.
"2020 is almost over," she said. "We made it!"
Referring to her February 2020 Super Bowl performance with Shakira, J-Lo added: "I think about the beginning of this year, being on one of the biggest performances of my life with thousands of people. But tonight we're doing things a little differently, and that's OK."
The singer appeared increasingly emotional as she continued: "If [this year] taught us anything, it taught us anything, it taught us to be grateful for what we do have, and to cherish every moment.
"We lost too many – too many to take one moment for granted."
She urged viewers to "keep on dreaming" before launching into her next song – "Waiting for Tonight", which she recorded and released in 1999.
Lopez soon transitioned to the 1973 Aerosmith classic "Dream On". After hitting the song's famous high note, she moved on to her 2012 song "Dance Again", with which she wrapped up the performance.
Source: msn.com
Added automatically
434 views