News
Turns Out Billie Eilish Is Just As Obsessed With Jodie Comer As We Are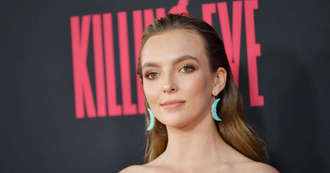 Billie Eilish recently sent the internet/world into a spin with her latest gorgeous cover shoot. The popstar completely changed her look, not only changing her hair from her trademark green-and-black locks to blonde curls, but also switching up her style and ditching the baggy clothes she'd become synonymous with for an Old Hollywood-style shoot in lingerie.
We learnt a lot about Billie, and her beliefs about how women are unfairly sexualised, during the Vogue interview. But in an accompanying video, we learned a lot more about the popstar. In the clip called 'Billie Eilish in… Ask A Legend', we saw the likes of Stormzy, Orlando Bloom, Justin Bieber, her brother Finneas, and Arlo Parks have the opportunity to ask Eilish questions ranging from her songwriting process to why she's vegan.
But one of the most enthusiastic responses was to Jodie Comer, revealing that not only did Billie probably watch Killing Eve, but that she is in love with Jodie as the rest of us. 'As someone who personally loves karaoke, if you were doing karaoke with a group of your closest friends what would be your go to song?' the Villanelle asked. To which Billie fangirled: 'Jodie! I have such a crush on you, girl... let me pull myself together.'
However, if you were wondering what Billie would belt out on a night out, she took a moment to say, 'Gosh, I really love H.E.R, I feel empowered when I sing H.E.R songs or Chief Keef to be honest. I don't know if they even have those at karaoke bars but I would request some Chief Keef.'
Billie's upcoming second album Happier Than Ever will contain 16 songs, including the singles Your Power, Therefore I Am and My Future as well as NDA, Everybody Dies, I Didn't Change My Number and Lost Cause.
Source: msn.com
Added automatically
170 views