News
Beyonce's mother debunks 'comical' rumours of how Jay-Z 'calms' singer's anxiety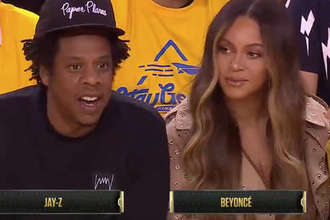 Beyoncé's mother Tina Knowles has spoken out on why Jay-Z is often seen touching the star's calf.
The rapper and "Single Ladies" singer were pictured watching a basketball game at the Barclays Centre in Brooklyn on Saturday (5 June).
The couple are frequently photographed court-side together with Jay-Z often seen touching Beyoncé's leg, prompting some fans to speculate that the rapper is doing it to ease the singer's supposed anxiety.
In response, Knowles shared a collage of the couple's "leg-rubbing" moments titled "The Jayoncé Leg Rub" and called out the "comical" rumours.
"So comical people saying she has anxiety in public and that's why he touches her!" she wrote. "Lord people !!!! Yal can turn something good and healthy into something That it's not !!! Stop that!!!!!".
Knowles added that the real reason for the "leg-rubbing" is: "When you love someone and like them you just want to touch them ! Me and Richard [Lawson] are always touching even if it's just our feet !"
The Texas-born businesswoman continued: "BTW if someone has anxiety then it is great for their partner to touch them to calm and reassure them. That's a beautiful thing. It just happens to be not the case here."
Recently, Mariah Carey denied tabloid reports that claimed she and Jay-Z were involved in an "explosive situation" that triggered her exit from his record label.
Source: msn.com
Added automatically
190 views