News
Brian May chats to Richard Allinson about fifty years of Queen and his solo album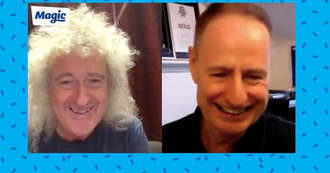 Brian May sat down with Richard Allinson to talk about his remastered album, 'Back To The Light' and celebrating fifty years of Queen. During their chat, Brian revealed he was hesitant to make a big show of their half-century career.
"To be honest, Roger and myself have been avoiding it," he told Richard. "Then we realised it was more important to make sure people knew the band was still around and making music."
"But I am proud that we've touched the hearts of so many people. I wake up every morning and realise by some miracle all the dreams that we had came true. We did connect with people." You can say that again - Queen's Greatest Hits is the best-selling album of all time in the UK. "If you're lucky, you're writing soundtracks to people's lives."
Aside from his work with the band, Brian found success as a solo artist and accompanying other artists such as Eddie Van Halen and Black Sabbath.
His debut solo album, 'Back To The Light' has been remastered and will be made available for the first time on streaming services almost thirty years after its release.
It was a "big step" for Brian, stepping out on his own from Queen, adding that he's excited for a new generation to experience it as it's very hard to come by. But don't stop him now (see what we did there?), he's already started remastering another solo record, Another World.
But one of his most memorable career highlights has to be playing on top of Buckingham Palace.
"It was a life-changing moment because it could have gone so wrong. I had to face so much fear to pull it off. It was completely live, completely dangerous. It wasn't the fact I could have fallen off the roof, it was the fact that I could have fallen flat on my face and forever be the guy who screwed it up on the top of Buckingham Palace in front of a billion people."
Brian went on to say it was odd to him how that moment stands out for him, because if Freddie Mercury had still been around, he would have been engineering the performance for him to do. The only reason why Brian was up there because he was the only Queen candidate.
Another memorable moment was of course, Live Aid. Speaking about the infamous performance in 1985, Brian said it was "one of Freddie's finest moments, and looking back, a finest moment for us all".
He went to add that he didn't realise how special that moment was at the time. "We just did our job. Bob Geldof said to us to only play the hits."
"All the tickets had been sold before we were announced on the bill, so it wasn't a crowd of Queen fans. But as soon as you saw the sea of hands up and everybody knew what to do with Radio Ga-Ga, it was a win. It was an avalanche. I'll certainly never forget that moment".
'Queen's Greatest Hits', the album we all know and love, is getting a re-release to mark the band's 50th anniversary. 'Back to the Light' is available from 6th August 2021.
Source: msn.com
Added automatically
60 views