News
Kyle Falconer: My New View on Life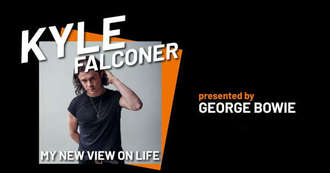 Kyle Falconer joined George Bowie at the weekend for an honest chat about his time as frontman of The View, his previous relationships with drugs and alcohol, and how he turned it all around when he became a Dad.
The 'Same Jeans' singer has a new passion in life for running which he took up after his first daughter, Wylde, was born.
He tells George it all started in 2016/17 when he started running 5ks,
"I remember seeing people running 10ks and was was thinking 'how could you get to 10k?' that was mad in my head, and then I just set a goal and said I was going to do it."
His perseverance paid off as at the start of the month he ran his first official marathon in under 4 hours and he did it all for Clyde 1's Cash for Kids.
Nothing went right on the day...he was against the elements on the run, he missed breakfast at his hotel, and he couldn't get enough signal for his running playlist to come on. He wasn't going to let that stop him though
"I had no option" he told George on the show "I was like 'if I don't do this I'd just feel dreadful', know what I mean? I'm doing it for the kids." At least he'll be more prepared for his next one!
Kyle runs the Rock n Roll marathon in Liverpool this Sunday (24th of October). If you'd like to sponsor him for his efforts you can do so HERE and all money will go to helping children in your area.
Kyle's come a long way since his days as frontman of The View.
"For years I kind of had this reputation and it was kind of hard to get rid of it, so I thought 'I'd be as well just doing what I do and just be what everyone thinks I am'" He told George about his first few years in the band. "There was this kind of this rock and roll scene where like nobody would wash or sleep or anything it was just pretty mad...I found it hard to get out of that behaviour"
When asked if he would go back and change his behaviour if he could, he tells George
"I would just try to be a bit more clued up. And I tell that to people who are just coming into the industry. Nobody really does it any more, but I'd just say 'don't do drugs'."
When asked about his own drug use, Kyle very honestly answers "that was the thing, the gigs and stuff were the next thing to do. The drugs and alcohol came first."
Eventually, Kyle checked himself into rehab knowing that he needed to change. And though he still enjoys a few beers and a party now and again, he's certainly turned his life around.
Photo: provided by Grazia
Source: msn.com
Added automatically
33 views