News
After Reading Taylor Swift's Lyrics For All Too Well, It's No Wonder Everyone Is Talking About Jake Gyllenhaal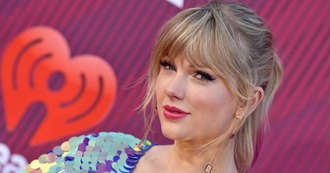 Guys, it's officially Taylor Swift day. Oh, the glorious day Scooter Braun thought would never come, and doesn't that make it so much sweeter? Releasing the latest re-record of her discography, Taylor has gone above and beyond for her Red album. And why wouldn't she? It only includes some of the most hotly anticipated, celebrity-romance-inspired songs of her entire music collection.
That's why everyone is tweeting about Jake Gyllenhaal today, if the tweets caused any confusion, because much of the Red album is known to be about him. Specifically, the song All Too Well, of which Taylor has released a brand new, 10-minute version.
Originally, the song included lyrics like 'maybe we got lost in translation, maybe I asked for too much. But maybe this thing was a masterpiece 'til you tore it all up, running scared, I was there. I remember it all too well. And you call me up again just to break me like a promise, so casually cruel in the name of being honest. I'm a crumpled-up piece of paper lying here, Cause I remember it all, all, all too well.'
Naturally, it was a very relatable song for a lot of people – with the original video featuring nods to Jake from the infamous picture of her in his scarf as they walked through New York to his cool guy Hollywood persona.
But the 10-minute version? It gets even better. With more (deservedly) brutal lyrics to dissect and a short-film that features Sadie Sink and Dylan O'Brien, fans have even noted that the age-gap between the two actors is quite similar to Taylors and Jake's back when they dated in 2010. At the time, Taylor was 21 and Jake 30 while Sadie is 19 and Dylan 30.
The said brutality of the lyrics is exactly why some are joking that we should check on Jake today, because boy does Taylor elaborate on her already heavily written about break-up with the actor.
'You said if we had been closer in age maybe it would have been fine,' the new lyrics read. 'And that made me want to die. The idea you had of me, who was she? A never-needy, ever-lovely jewel whose shine reflects on you. Not weeping in a party bathroom.'
'I'll get older, but your lovers stay my age,' Taylor sings in another verse. 'From when your Brooklyn broke my skin and bones. I'm a soldier who's returning half her weight. And did the twin flame bruise paint you blue?'
I mean… she's not wrong! Jake's current girlfriend, Jeanne Cadieu is only 25 while he turned 40 earlier this year. So year, someone 'check' on Jake – and maybe ask him if he's still into breaking the hearts of young women?
Photo: Getty Images
Source: msn.com
Added automatically
39 views