News
Viral propaganda song tells Chinese to take 'bullet train to Taiwan'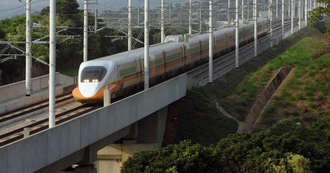 Alongside aggressive displays of military might, China is also adopting a more subtle tactic to push its territorial claims to Taiwan – a propaganda song about a bullet train linking Beijing and Taipei.
According to Chinese state media, the snappily named new hit "Let's Take a Bullet Train and Go to Taiwan in 2035," has gone viral, delighting the public by representing their "keen wishes" to see the island democracy joined with the mainland. 
The video for the song shows a train speeding towards Taipei 101, Taiwan's most distinctive skyscraper, and a young holidaymaker in a flowery dress and straw hat happily exploring the beach. 
The song may be jaunty and light-hearted, but as Beijing makes its desire to annex the independent territory - which China has never ruled - with increasing force, the dark political undertones are clear.
Taiwanese should keep "defending their minds" from such propaganda, warned Su Tseng-chang, Taiwan's premier, when questioned about it in parliament this month.
"We as a whole people must have a consensus that China will never give up its use of force to invade Taiwan. Only by our own determination, our own efforts, our own seriousness and caution can China not succeed," he said.
Photo: SAM YEH /AFP
Source: msn.com
Added automatically
12 views