News
Opening act Humperdinck 'nervous'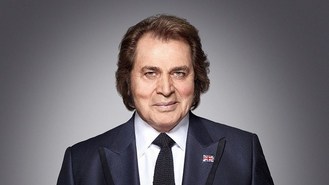 Eurovision hopeful Engelbert Humperdinck has admitted he is "nervous" after learning he will be the first performer of the night at the contest.
But he said his fears will spur him on to "come out fighting".
The 75-year-old singer is representing the UK with the song Love Will Set You Free at Baku in Azerbaijan in May and believes it has the "potential" to win.
The song - written by a duo with a strong track record - was premiered yesterday. It emerged earlier today that he will be first on the bill when the show is staged.
"I'm nervous about that but it's also a good position to be in," he said.
"When you lose your nerves, you've lost everything. No matter where I go, no matter how many performances I do, I always have that slight nervous reaction before I go on. It's like being a boxer."
Humperdinck added: "I think it's a good thing - it gives you that edge and makes you come out fighting."
The star - who divides his time between Los Angeles and Leicester, where he was brought up - said Eurovision could be the source of as much British pride as the Diamond Jubilee and Olympic celebrations this year.
He went on: "I feel like an athlete, I really do. I'm in the running. People who meet me are always shaking my hand and saying good luck."
Asked if he thinks it stands a chance of winning, he said: "It has the potentiality of it - I think it's a great song and it all depends on the performance."
Source: music.uk.msn.com
Added automatically
1051 views