News
Minaj: I'm the biggest homebody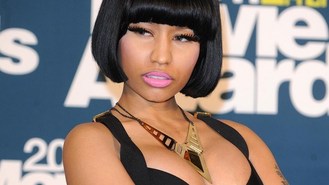 Nicki Minaj believes people mistake her shyness for meanness.
The Starships singer insists that despite her bold image she is actually pretty reserved but she fears some people "misinterpret it".
The star told Complex magazine: "I'm the biggest homebody. But I've been like this. Nothing about me has changed since I got fame. I never liked to go to clubs. I never liked to go out. I don't know where that public craziness came from.
"I was always like a comedian to my friends and family, but in a lot of ways I'm shy. I think people read my shyness as being mean. They misinterpret it."
Nicky, 29, also admitted she is her own worst critic, talking about how she "freaked out" when she had a wardrobe malfunction before she performed at the American Music Awards - even though nobody noticed a problem when she was on stage.
She revealed: "I was backstage having a f****** nervous breakdown. My hair was supposed to light up, my choker was too small. So while I was in the box, waiting for the show to open, I had to rip the s*** off, throw it to the side, and act like nothing happened."
She added: "When I got off stage I freaked out because it was just so emotional."
Source: music.uk.msn.com
Added automatically
967 views