News
Timberlake confirms music comeback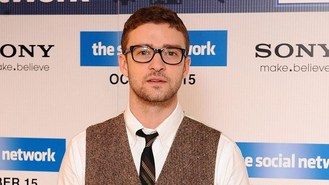 Justin Timberlake has confirmed he is making his music comeback.
The 31-year-old singer and actor - whose last album FutureSex/LoveSounds was released in 2006 - has been focusing on his film career, but rumours have begun circulating that he was back in the recording studio, collaborating with the likes of Jay-Z and Beyonce.
Justin announced on Twitter: "To whom it may concern... I think I'M READY! #JT2013" and posted a link to a video entitled 'Countdown Justin Timberlake'.
The cryptic video shows Justin walking through a house and into a recording studio where he puts on a pair of headphones.
The singer says: "Someone asked me the other day, 'So are you just done with music?' It means more to me than anybody else in the world. I've only done two albums in 10 years. What does the next decade mean for me?
"I'm the one that sits and gets obsessive about it before you even get to hear it. I don't know that I could physically torture myself year in year out, and expect it to fulfil me the way that it does and the way that it is right now. I don't want to put anything out that I don't love, you just don't get that everyday. You have to wait for it.
"I'm ready."
Meanwhile, Beyonce has confirmed she has collaborated with Justin for her next album.
The Grammy-winning songstress - who is working on her fifth as-yet-untitled record and her first musical release since she became a mum to daughter Blue Ivy - told US GQ magazine: "I've been working with Pharrell (Williams) and Timbaland and Justin Timberlake and Dream.
"We all started in the 90s, when R&B was the most important genre, and we all kind of want that back: the feeling that music gave us."
Source: music.uk.msn.com
Added automatically
1003 views