News
Women 'disrespected' rapper Dappy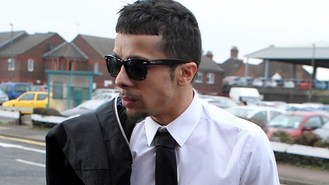 N-Dubz rapper Dappy has denied sparking a petrol station brawl because he was "disrespected" by two teenage women who called him "boring".
The 25-year-old is charged with affray, two counts of common assault and one of assault by beating in connection with the fight at the Shell garage in Woodbridge Road, Guildford, Surrey, at about 3.30am on February 28 last year.
The trial at Guildford Crown Court has heard Dappy had been celebrating at a nightclub the release of his new single. Brian Stork, prosecuting, asked Dappy if his role as they drove home was to find girls to bring back to the recording studios to continue their party.
Dappy, real name Costadinos Contostavlos, said: "The car I was travelling in was full of bodies, I am not exactly going to pick up two ladies to fit in and the mother of my two kids is in there."
The rapper denied flirting with the women, saying he was simply promoting his record.
He is alleged to have spat on the floor next to them and called them sluts when they turned down his advances and called him boring. He's then accused of spitting at and swinging a punch at a man who stepped in to intervene by putting him in a headlock. Dappy denies these actions and says he only acted in self-defence.
He said the two girls became "very, very rude" to him when he tried to promote his record.
Mr Stork said: "They not only failed to recognise you, and to use a street term, they dissed you, they had shown you disrespect." Dappy replied: "They had shown me disrespect, a lot."
Mr Stork continued: "And just to show them who shouldn't be disrespected and to show them you were above them, you spat at them." Dappy replied: "How am I going to get anywhere by spitting at girls. I have been broke for 18 years of my life, I am financially stable, I am grateful for it, I have done nothing to those girls."
Mr Stork also asked: "Your reaction to that ultimate insult in your eyes of being called boring was to spit at those two girls?" The rapper replied: "I did not spit at the girls."
Source: music.uk.msn.com
Added automatically
1096 views