News
Wanted's Parker focuses on fans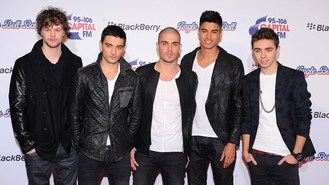 The Wanted's Tom Parker has revealed his sole focus will be his fans, after an online feud with One Direction.
The 24-year-old singer said he would turn a blind eye to "negative comments" following a war of words on Twitter between himself and bandmate Jay McGuiness and rival band members Louis Tomlinson and Liam Payne.
"Ignoring negative comments from now on and concentrating on the important people...all you lot :-) peace x," he tweeted.
The beef began after Tom questioned why 1D keep making references to The Wanted on their tour, and Louis replied by tweeting a news story about Tom's unsuccessful experience on The X Factor.
Both Tom and Louis then engaged in a number of posts, which were later deleted.
Tom's bandmate Jay then posted a longer message directed at Louis, calling him "overrated, arrogant and insincere".
"Dear @Louis_Tomlinson, please stop mentioning us in your gigs, we certainly no longer mention you and it's time to let dead dogs lie... I'm not sure what's happened since we saw you at the XFactor, but you've done a sterling job of becoming one of the most overrated, arrogant and not to mention insincere people around," he wrote.
He added: "Your shocking lack of talent will only be forgiven by lots of humility and no-strings-attached friendship among your band. Louis, don't measure your worth in followers or money, because they're fickle, and when they go you might just feel worthless."
There has been competition between the rival boybands since they both launched their careers over in the US, with The Wanted's Max George questioning 1D's musical ability by calling them "faces". Zayn Malik from the X Factor group later made fun of Tom's looks, and Max retaliated with a dig at One Direction's music.
Source: music.uk.msn.com
Added by AutoAdmin
818 views