News
Underwood nervous about Maria role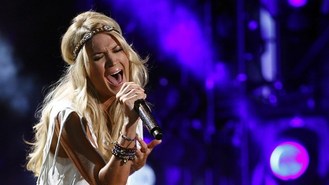 Carrie Underwood has admitted she's nervous about her new role as the Sound Of Music's Maria.
The American Idol champion is starring as Maria in NBC's live production of the film.
Asked whether she was nervous about learning her lines, she said: "I am. I have definitely been doing my part before we all get together.
"I figure if I at least have the lines memorised by the time I get there we can slowly concentrate on delivering them. I definitely think I am going to be surrounded by some really amazing people, so I know they'll be able to help me with that.
"On the flip side, I will be surrounded by people who might not be used to singing as much. Maybe I can return the favour and help them. But it will be good.
"I feel like I am a hard worker and we're going to go in and we're going to do it so many times by the night, it's going to feel like another rehearsal."
One of the songs, The Lonely Goatherd, involves yodelling.
Carrie said: "That's the one thing I don't have to practise. I actually have some yodelling experience. I can yodel. I don't think you can necessarily learn it. I can just do it. I didn't have to learn it. I am one of the blessed few."
Source: music.uk.msn.com
Added by AutoAdmin
614 views