News
Moretti engages in interactive art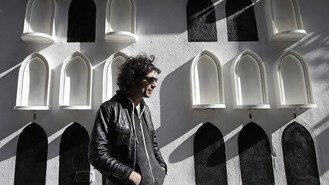 The Strokes' Fabrizio Moretti has admitted that the music industry has become "routine and a business" to him.
The drummer is still working on new music with his band but has also turned to art because he wanted more of an artistic dialogue with the public.
He did so by staging an interactive pop-up art installation outside the Rag And Bone retail store in New York, where he put up a large display of semi-religious half-saint-half-astronaut statuettes on a wall resembling a shrine and invited passers-by to take them.
Fabrizio, 33, explained the display was his version of a social experiment: "I thought it was an interesting thing to see this struggle inside the viewer: Should they do something that's - in a sense - wrong, but if they chose to do it, they'd be involved in this dialogue and exchange with me, and they could do it."
The statues have been taken more quickly than he expected and demand has surpassed output.
The star - who studied sculpture at the State University of New York at New Paltz before he started touring - said: " Everything else has all come to a halt during this. You should see my apartment now. I'm making them at home, and it's an absolute mess."
While there is still music to be made, the rocker said he may become a hyphenated type - an artist-slash-musician.
"I hate to sound jaded, but everything else has become routine and a business - that's what the music industry has become to me - and I have to remind myself that creating is a privilege," he said.
"Art has fuelled creativity with a newfound fervour."
Source: music.uk.msn.com
Added automatically
1093 views