News
Abuse was 'mega lolz' - Watkins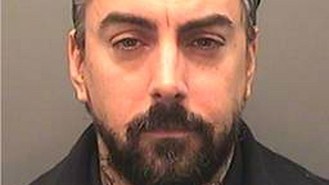 Ian Watkins spoke with a female fan from prison the day after admitting two counts of attempted baby rape and said he was going to issue a statement when he was sentenced saying it had all been "mega lolz".
A transcript of the conversation was read out to a shocked and silent Cardiff Crown Court as the former Lostprophets frontman was being sentenced .
Christopher Clee QC, prosecuting, told the judge that Watkins had a conversation from Park Prison with a woman named Samantha on November 27.
Watkins denied being a paedophile and expressed exasperation at the way people had reacted to his guilty pleas.
Using text-speak, he said: "I'm going to put out a statement on the 18th just to say it was mega lolz.
"I do not know what everybody is getting so freaked out about."
Watkins explains in the conversation that he was faced with a choice before pleading guilty.
"It was like either I go up there and say 'come on it was not that bad, nobody got hurt'."
He said it was either that or "try to win them over with my charm" and end up saying, "I was off my head and do not remember anything".
Mr Clee said that in a second conversation with the same woman on the following day he claimed a lot of what he had said in online conversations was "bulls*** chat that I did to shock when I was off my head".
He insisted that no baby was ever harmed and said he was "going to release a statement and stuff".
Told by the woman that what he had planned to say may not be a good idea, he agreed, saying: "It is just lol now."
The phrase "mega lolz" was used by the Lostprophets on some of their t-shirts. The group also performed in front of a back-drop saying MEGA LOLZ! on the main stage of the Reading Festival in 2010.
Meanwhile, two further forces are being investigated by the police watchdog over their handling of allegations against Watkins.
The Independent Police Complaints Commission (IPCC), which is already investigating South Wales Police over whether they acted quickly enough on tip-offs, is to look into South Yorkshire and Bedfordshire forces.
Watkins, the former Lostprophets frontman, was described by a prosecutor as a "determined and committed paedophile" when he pleaded guilty to a series of charges last month.
The IPCC said it is investigating the effectiveness of the three forces' responses to reports of abuse made to them between 2008 and 2012.
Jan Williams, the watchdog commissioner, said: "No one can fail to be shocked by the vile details of Ian Watkins's offending that emerged in court last month.
"As the criminal proceedings have now ended, questions are now rightly being asked as to whether Ian Watkins could have been brought to justice sooner, what steps were taken by police in response to allegations made against him as far back as 2008, and whether his celebrity status had any impact on the investigation.
"That is exactly what the IPCC is seeking to establish."
Source: music.uk.msn.com
Added automatically
1103 views