News
35 years for 'depraved' Watkins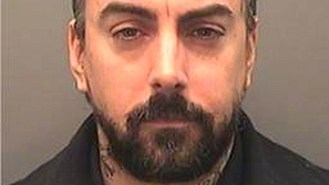 Ian Watkins has been handed a 35-year sentence for a string of child sex offences which "plumbed new depths of depravity".
The former Lostprophets singer even spoke with a female fan from prison the day after admitting two counts of attempted baby rape and said he was going to issue a statement saying it had all been "mega lolz".
Watkins, who had lost his initial cockiness and was shaking visibly in the dock at Cardiff Crown Court, was told he would serve 29 years in jail with the final six on licence. He confessed to 13 offences and was described as a committed and determined paedophile.
His two accomplices, Woman A and Woman B, were jailed for 14 years and 16 years respectively.
After sexually touching a groupie's 11-month-old baby, Watkins then tried to have penetrative sex with the child. He also encouraged a second fan to abuse her child during a webcam chat and secretly stashed child porn videos, some of which he had made himself.
And it is feared the incidents could be just the tip of the iceberg. Police are investigating whether Watkins, 36, committed further abuse in the US and Germany.
Trial judge Mr Justice Royce told Watkins: "Those who have appeared in these courts over many years see a large number of horrific cases. This case, however, breaks new ground. You, Watkins, achieved fame and success as the lead singer of Lostprophets. You had many fawning fans. That gave you power. You knew you could use that power to induce young female fans to help satisfy your insatiable lust and take part in the sexual abuse of their own children. Away from the highlights of your public performances lay a dark and sinister side."
The judge added: "I am satisfied that you are a deeply corrupting influence, you are highly manipulative, you are a sexual predator, you are dangerous. The public and, in particular, young females need protection from you."
Watkins looked blank as he was led from the dock.
The sentence was greeted by shouts of "Yes" from the public gallery.
The judge spoke in court about an interview that Watkins had with the Probation Service, since the admissions he made last month, for a report.
"You spoke to the author of your desire to shock and your craving to push the sexual boundaries," the judge said. "This craving was fuelled by your use of cocaine and methamphetamine which increased your sexual aggression. You spoke of not knowing to what extremes you would have gone but for your arrest. It is difficult to imagine anything much worse."
The judge said that the author of the report concludes: "Mr Watkins presents a high risk of causing serious sexual, physical, emotional and psychological harm to children, both male and female, and to women, specifically his female sexual partners."
He said the report adds: "It is also my assessment that the child victims in this case appear to be coincidental to his need to dominate and to test out the extent to which his sexual partners would collude and participate in his sexual interests."
Summing up, the judge told him: "Watkins, you are aged 36 and have no previous convictions. Your mitigation is your late plea. I also take into account that, through your offences over the last six years, you have lost a valued position with your group. I also take note of the letters written on your behalf from those who know a different side of you."
In relation to all three, he said he was taking into account a series of sentencing guidelines. They were the planning, the graphic detail of the offending, the deliberate targeting of a vulnerable victim, carrying out the offence with another person, and, in the case of the two women, the abuse of trust. He said that carrying out the offences under the influence of drink and drugs was also a factor.
Sentencing Watkins to a combined jail term of 29 years, he told him that he was being given an extended sentence. That means he will serve two-thirds of the term behind bars before being released. Before the change in December 2012 he would have served half the sentence. On his release in around 20 years' time he would normally have been on licence for the remainder of the 29-year term. The judge, however, added an additional six years on licence and told him: "Your total sentence, therefore, is one of 35 years."
Source: music.uk.msn.com
Added automatically
1015 views