News
Queen, Lambert to embark on tour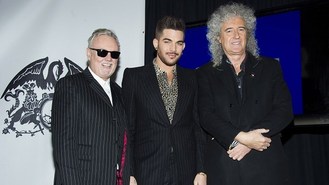 Adam Lambert has never paid attention to the haters, and he won't start now as the lead singer for the rock band Queen on their upcoming summer tour.
"You just can't focus on that c**p, especially in today's day and age, the internet, and everybody has an opinion and a comment. That's not why we do this," Adam said.
The former American Idol runner-up first performed with Queen in 2009 when he was a contestant on the US TV talent show. The band and Adam have since performed together, including last year's iHeartRadio Music Festival in Las Vegas and a European tour in 2012. They sang such hits as We Are the Champions and We Will Rock You.
Still, Adam has to stand in the shadow of the singer many regard as one of the greatest to front a rock band.
"At first it was a little daunting when we did our first incarnation of this. I definitely felt apprehensive. Freddie Mercury is one of the greatest singers that ever lived," he said.
"It's such a treat for me to get on stage and pay my respects, and pay tribute to one of my favourite singers ever, and to sing some of the greatest music ever written."
The 19-date US tour kicks off on June 19 in Chicago and wraps up on July 20 in Washington.
Original members Brian May and Roger Taylor flanked Adam for the news conference and, in the interviews that followed, defended their choice as Mercury's successor.
"American Idol is a long way in the past for Adam now. He's a solo artist and well-established. And also we are established as a partnership ... if you concentrate on the negative you're not going to get anywhere. It's very important to have focus, and you play to people who want to hear us," Brian said.
"Good is good, and quality is quality," Roger added on Lambert's ability.
Brian said the band will pay tribute to Mercury in the show, but "the mere fact that we're playing songs that Freddie wrote is a tribute," he said.
The guitarist also touched on releasing some old recordings of Freddie Mercury, including a collaboration with Michael Jackson, recorded in 1983. Mercury died in 1991; Jackson in 2009.
"I was surprised that there was a little bit more in the can that we had overlooked for a long time, so we have a few songs which we're working on right now. Freddie songs as fresh as yesterday," he said. "It's really amazing. We're all playing together, and I think people will enjoy it."
Source: music.uk.msn.com
Added by AutoAdmin
694 views