News
Florence Welch dating childhood friend - report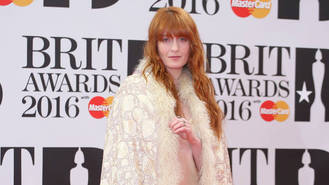 Rock star Florence Welch is reportedly dating fellow musician Felix White.
The 29-year-old Florence + the Machine singer is said to have recently struck up a romance with Felix, who is a guitarist in indie band the Maccabees.
And a source tells U.K. newspaper The Mirror the pair are hitting it off well for many reasons, including the fact they have been friends since childhood.
"Florence and Felix grew up together, so they really know each other well," the insider noted. "They've only been dating a few months but they are insanely happy together."
Earlier this week (endsFri26Feb16) the rumoured couple attended the Brit Awards ceremony together, with Florence having been nominated in the Best British Female and Album of the Year categories at the event.
It's claimed another reason why she is so into Felix is because he offers informed support to Florence as she pursues even more career feats.
"As well as knowing Flo since before she became successful, Felix understands the (music) industry as he's in it too," the source explained. "He's a great support to her."
Florence has experienced heartbreak twice since becoming famous - splitting from literary editor Stuart Hammond in 2011 after spending three years with him and then briefly dating James Nesbitt in 2012.
Apparently her loved ones are elated the hitmaker has finally found a solid partner in James, as it is clear she is enamoured with him.
"Florence is in a really great place and it's been so nice for all her friends to see her smiling," the insider said.
Source: www.msn.com
Added automatically
837 views