News
Taylor Swift used Grammys to call out Kanye West on 'her own terms'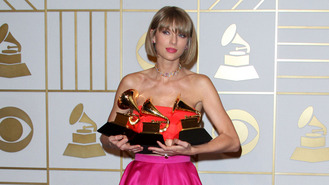 Taylor Swift used her Grammys speech to address her ongoing feud with Kanye West on "her own terms", a source says.
When Taylor won the Grammy for Album of the Year earlier this month (Feb16), beating both Kendrick Lamar and The Weeknd, she made a rousing speech in which she called out rapper Kanye for including a crude line about her in his new song Famous.
While accepting her award for her album 1989, the 26-year-old beauty made a point of urging young women not be sidetracked by naysayers.
"I want to say to all the young women out there: There are going to be people along the way who will try to undercut your success or take credit for your accomplishments or your fame," she said.
Now, according to a source close to the Bad Blood singer, the entire speech was planned to rebuke 35-year-old Kanye.
"She (Taylor) was hesitant to give his comments oxygen, but knew she'd be asked about them, and wanted to address them on her own terms," the source told Britain's Grazia magazine.
They also revealed that Taylor is determined to turn the Kanye situation into something positive but has also urged her friends in her "squad" to stay clear of the father of two.
"Her speech was designed to turn a negative into a positive, by empowering her fans.
"(Taylor) is a vocal champion of female solidarity and has made it clear to her friends that Kanye's latest stunt is entirely unacceptable, an incompatible with everything she promotes," they added.
However, the source also admitted that Taylor did enjoy herself at the Grammy Awards, in spite of the ongoing drama.
"Taylor has channelled everything into 1989 winning Best Album, and she was understandably upset that Kanye had detracted from her big night - again. Luckily she had her friend Selena Gomez and her manager there to cheer her up, and the night ended on a high," the source recalled.
While Taylor apparently forgave Kanye for the stunt he pulled in 2009 when he stormed the MTV Video Music Awards and cut the performer off as she was accepting an award, she wouldn't be so kind in the future.
"Taylor was gracious enough to forgive Kanye once, but she won't be fooled a second time," the source noted.
Source: www.msn.com
Added automatically
813 views