News
Jason Derulo sets up bathroom bar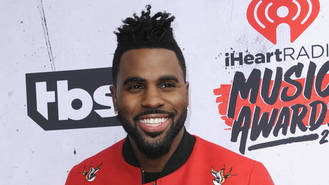 R&B star Jason Derulo has a bar in his master bathroom.
The Talk Dirty hitmaker had one key priority as he designed his nine-bedroom, five bathroom estate in Tarzana, California - to ensure he and his guests will never go thirsty.
"Wherever you are, you should be able to have what you want and what you need," the 26-year-old told People magazine, as he showed off his luxurious pad.
The singer continued, "There's a lot of bars throughout the whole compound. It would suck to come all the way downstairs if I wanted a mojito. So I could have my mojito upstairs if I want, or I could have some wine. It's just about convenience."
Jason's en suite bathroom oozes glamour with crocodile skin accents around the sink, a large, gold-accented shower and a jacuzzi tub surrounded by lion statues.
"I love lions because they're kings," he told the publication. "It's only right that you consider yourself powerful and king-like."
And Jason reveals decking out his master bedroom and bathroom with top-of-the-line appliances and accessories was important for him, so he can impress his lady love - a lesson he learned from his mother.
The star, who is dating rapper 50 Cent's model ex Daphne Joy, said, "It was definitely important for me to have a fly bathroom. My mum used to always say, 'Women like nice bathrooms,' so I had to make sure my bathroom was super fly for whomever I was with."
Jason began romancing Daphne, who shares a young son with 50 Cent, last year (15), and the pair made its red carpet debut at the People's Choice Awards in January (16). Since then, the couple has barely left one another's sides, and Jason treated his girlfriend to a romantic vacation in Mexico in March (16).
However, when it comes to date nights, Jason likes to keep things simple.
"I like just kicking back and getting that one-on-one time, watching a movie at the house, or she (Daphne) cooks dinner. She's an unbelievable cook!" he gushed to People.com last month (Mar16).
Source: www.msn.com
Added automatically
693 views