News
Taylor Swift designs range of greeting cards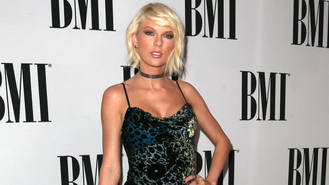 Taylor Swift continues her quest to be crowned the perfect pop star by creating her own range of greeting cards.
The Shake It Off singer has been quietly working on the side project for stationary store Papyrus, with the collaboration only coming to light on Thursday (09Jun16), when an eagle-eyed fan spotted the cards in their local shop and immediately posted shots of them on Instagram.
The array of bejewelled cards include designs with a bright yellow sun featuring the words, 'You are actual sunshine' inside, a cartoon of a blonde woman holding a cat, another graphic of a woman in profile wearing a pair of crystal headphones, and a turquoise card covered in rhinestones with the words, 'Yay You!' written in gold across the middle.
While Taylor has yet to announce her involvement in the project, Papyrus officials commented on fans' Instagram pictures to confirm the partnership, describing it as "just the beginning".
The designs are currently only available in the United States but, while replying to another fan, the Papyrus spokesperson told international fans not to be despondent, as "anything is possible!"
The generous 26-year-old - who recently broke up with boyfriend Calvin Harris after more than a year of dating - will donate a portion of the proceeds from her cards to an unspecified charity.
Accompanying the cards, a description reads: "Taylor Swift. She is deeply honest and powerfully empathetic, a pop culture phenomenon, loyal friend, and fierce protector of hearts. Share in the gorgeous fun, sweet emotion and stunning style of this card inspired by Taylor."
Referencing the charitable donation from the sale of each card, the message concludes: "In big ways and little ways, we can all make a difference in the world."
This isn't Taylor's first foray into card writing, as she joined forces with American Greetings in 2009.
"My idea of a great song is a song that says how I feel better than I could. I feel the same way about greeting cards," she said in a press release at the time. "I've always been fascinated by feelings and how we express them to each other."
Source: www.msn.com
Added by AutoAdmin
411 views